The fourth edition of 'Mujeres que contar', which was held in the Auditorium of Antigua, awarded women from different professional fields.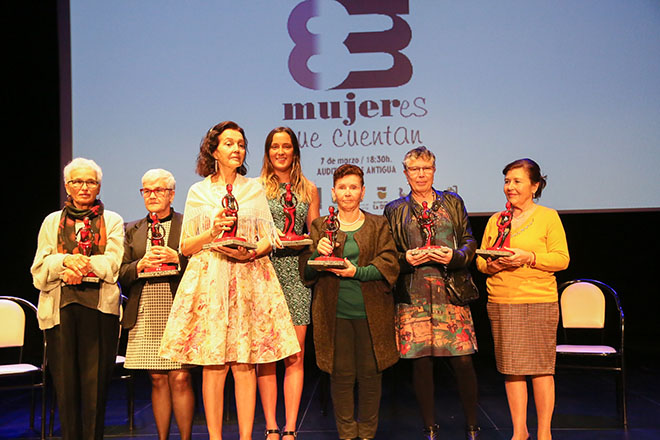 Diario de Fuerteventura
The Fuerteventura Cabildo and the six town councils of the island presented on Thursday the 'Island of Fuerteventura: Women who tell' Awards, recognizing the trajectory of seven women on the occasion of International Women's Day, which is celebrated on March 8.
The event, which took place in the Auditorium of Antigua, was attended by the President of the Cabildo de Fuerteventura, Marcial Morales, the Minister of Social Welfare, Rosa Delia Rodríguez, the Minister of Equality, Yanira Domínguez, and the Councilor for Social Services of the City of Antigua, Columba López Alberto, as well as the mayor of Betancuria, Marcelino Sardinia, as well as councilors and insular councilors and representatives of the six municipalities.
"The fourth edition of the Isla de Fuerteventura Awards: Mujeres que cuenta brings us together today in this Auditorium in Antigua about seven women in which surely they are reflected in their daily or personal work. Juana María Montelongo, Flora Hierro, María del Buen Viaje Moseguez, Petrín Quintero, María del Carmen Aguiar, Margarita González and Julia Castro are women who have dedicated their lives to their families, to their jobs and to the community, "Morales said in his speech .
"Today we recognize that dedication and courage at a time when it is still necessary to celebrate International Women's Day because there is still a long way to go to achieve full equality between women and men, to end sexist violence and with many other situations in which processes of exclusion of women are visible, "he added.
"In these seven women we want, as we have been doing in these years, to value this essential half of our island population, without which the history of Fuerteventura would not be understood, while encouraging the struggles of all and all for a Fuerteventura, in which the difference, in this case of gender, is felt for what it is: a value that women and men can convert into real well-being for all our people, "Morales said.
Rosa Delia Rodríguez said that "since the Cabildo we reaffirm our commitment to the development of equality policies". "Despite the achievements, there is still a long way to go," he said. "Women continue to bear a burden of discrimination and there continues to be no co-responsibility policies," he added. "We denounce the violence of gender as the exponent of the great discriminations," he added.
Yanira Domínguez said that "the act Women who count is a recognition to majoreras women who have made contributions." "Despite the conquests there is still a long way to go. We must not forget that equality policies are instruments to improve the lives of women and of society in general, "he said. "We must all leave this March 8 in favor of real equality," he said.
Columba López Alberto also advocated "continue working to achieve equality between women and men" and congratulated the seven honorees.
The fourth edition of this contest paid tribute to seven women for their tours in different areas, at the proposal of each of the six municipalities and the Island Corporation.
Here are the names and tours of the seven women who have received this year's recognition:
Juana María Montelongo
, who received recognition on behalf of the municipality of La Oliva, was born in Tindaya in 1951. At the age of seven, she began to make basketry and other household utensils with palm leaves. Before his tenth birthday, he was already working on traditional Majorero drafts, later moving to clay utensils and becoming a reference for regional craftsmanship. In 1993, she was awarded the Insular Crafts Prize, awarded at the Crafts Fair of Antigua. His extensive career is still alive with the organization of training courses and workshops in which he transmits his teachings.
Flora Hierro
, honoured on behalf of the municipality of Pájara, was born in Morro Jable in 1937, in the bosom of a working family. At the age of fourteen, she began to work on the tomato harvest of Gran Tarajal and in La Aldea de San Nicolás, later moving on to her six children. Today he participates in dances, meetings and trips of the Senior Center of Morro Jable.
On behalf of the municipality of Betancuria,
María del Buen Viaje Moseguez
, born in Tefía, was honoured this year. In Aguas Verdes she met her husband, with whom she married in 1967 and had five children. María Moseguez is considered a tireless worker inside and outside the home, collaborating with the community of neighbors and currently participating in the activities of the Betancuria Senior Center. During her life she has been considered an active and hard-working woman inside and outside the home, in the care of her mother and helping her children.
Petrín Quintero
, who received the award on behalf of the municipality of Antigua, grew up in Caleta de Fuste, where he works with his boat, the María de las Nieves. Likewise, she is the caretaker of the image of Our Lady La Peña del Mar, captaining each year her maritime procession. Quintero says that with the arrival of the boats to El Castillo, the meals also arrived at the fishermen, turning 'La Casa de Frasquita' into a famous restaurant.
María del Carmen Aguiar
, honoured on behalf of the municipality of Tuineje, was born in Tiscamanita in 1946. With fourteen years she joined the labor market in tomato packaging. Since his youth he has been involved with his surroundings, collaborating in the organization of the Fiestas de San Marcos. After getting married and moving to the town of Tuineje, he became involved with his neighbourhood association Virgen de la Salud, forming part of its board of directors since 1978, through which he developed an active task of reclaiming neighbourhood improvements. In 1985 she resumed her work and started in 1995 in the hotel business as a chambermaid, becoming a governess. During this stage, she stands out in the trade union movement as a representative of the workers in the sector.
On behalf of the municipality of Puerto del Rosario,
Margarita González
, born in Antigua in 1952, was recognized. A teacher of early childhood and primary education, she began her liberating moment from an early age. During his formative stage, he became involved as a social activist for the year 1975. She practised her profession at the Pablo Neruda School in Puerto del Rosario, from its inauguration in 1985, until his retirement. Committed to different causes, Margarita is involved in all the fronts in which the care of the land, justice and equality is defended, participating in different groups of different motivations such as ecologists, solidarity, antimilitarist and feminist movements, among others.
Julia Castro
, honoured by the Cabildo de Fuerteventura, was born in 1994 in Fuerteventura. From his parents, professional divers, he inherited his love for the sea. After his first steps in sailing and athletics, an unfortunate knee injury made him discover kitesurfing. In seven years, Castro has been runner-up junior of Europe of kite surf, runner-up of the world of the Kite Park League 2018 and three times champion of Spain of wakeboarding.
During the ceremony, the manifesto for
International Women's Day
was read by a representative of the Federation of Women's Association Arena and Laurisilva.
International Women's Day  --->>>  

Don't forget to treat your lady today, gentlemen!!

<<<---
I
Fuerteventura